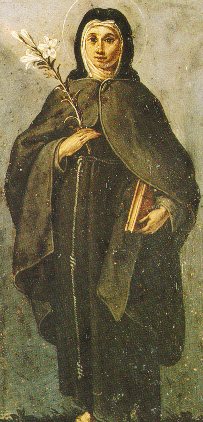 Who is Clare of Assisi?
She was rich, beautiful and determined. The young noble woman tugging at the heavy rocks and beams barring the door through which she would escape from the family castle, could not have dreamed how untold thousands would follow her on her flight to meet the Beloved. Her mother in a spirit of prophecy had named her Chiara-- how can you translate such a name, capturing at the same time a waterfall of beautiful images: light, brilliancy, the shimmering of the moon, sheer transparency. Clare would become her name outside the borders of her native Italy, whose borders where thrown open to God as never before when 18 year old Clare made her way through the dark and silent streets of Assisi.
The next morning those same streets would resound with angry shouts of men and clattering of horses' hooves as a band of knights stormed through Assisi's gates in search of the young fugitive. How did they know where to find her? Obviously Francis of Assisi had something to do with this. He had heard of the holiness and intensity of this young woman in her continual struggle to follow Christ, and had offered her assistance, promising to support her in desires. Yet when the critical moment came, the young woman stood alone in small church as she faced the shouting knights, brandishing their swords. She had no need to shout; she knew in Whom she had trusted and laid hold of the altar. The knights retreated in what was their most bitter defeat. God had already set His seal upon the young woman.
In the deepest sense, Clare really never left the altar from that moment on. Her life was like an arrow which took flight from the bow of her single-minded, burning desire and sped upward into the very being of the Godhead. Within a matter of months a small group of young woman had gathered around her at San Damiano, where assisted by Francis and his friars, they would lead a life of deep seclusion and prayer, centering their existence on the Poor One hidden in the Eucharist.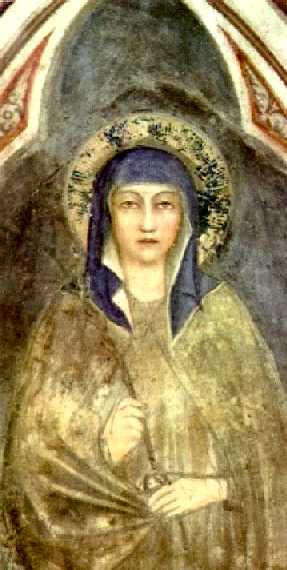 Sheer transparency: that was Clare. The light of the Divine gleaming through this woman who had emptied herself through the total gift of her life blinded all who drew near her. Pauper or Pope, it didn't matter. Hidden within the walls of her monastery, the joy that consumed her penetrated every corner of the Church. The joy of living continually in Christ's presence. For which reason she is most often portrayed holding the Blessed Sacrament.
or if you would like to know more about her then check these pages:
Clare of Assisi a reflection by Pope John Paul II
The Enlightened Heart by Fr. Herbert Schneider, O.F.M.